> Andromeda Galaxy M31
The Andromeda galaxy is the nearest big spiral galaxy to our own Milky Way. It is the only galaxy in our sky that can be seen with the naked eye. This galaxy is about twice as big as the Milky Way but very similar in many ways. Our galaxy and Andromeda are bound together and it is possible that in 3 billion years we will come together to form one large galaxy. Andromeda galaxy has many satellite galaxies and two can be seen in the image. The round fuzzy galaxy near the bottom of the image is M32 and the larger satellite galaxy top right is M110.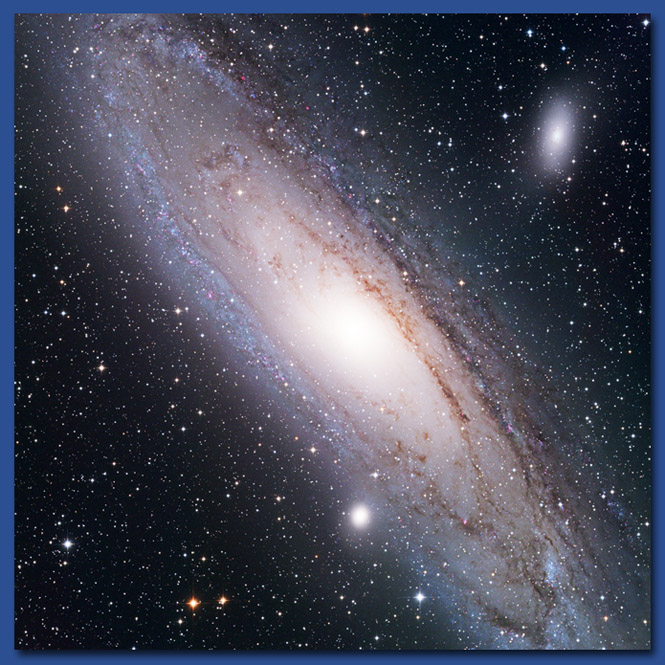 Image Data : Total exp.= 1.6 hours.
L:R:G:B: = 24: 25: 18: 27: mins.
Location:
Equipment: Ceravolo 300 Astrograph at f/4.9,
Mount: Astrophysics 900
Camera: Apogee U16M with Astrodon filters
Software used: MaxIm DL, Registar, PS CS2
Image Aquisition: Peter
Image Processing: Debra




This is a higher resolution image of the edge of Andromeda galaxy and its satellite galaxy M110. M110 was independantly discovered by Caroline Herschel in 1783 and it is an eliptical galaxy that contains millions of faint stars. The Andromeda galaxy is a spiral galaxy and contains a trillion stars, twice as many as our own Milky Way galaxy.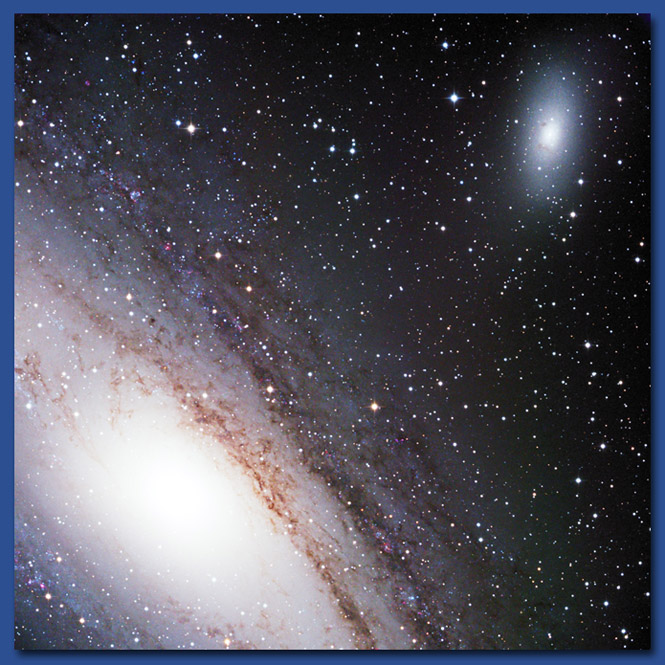 Image Data : Total exp.= 2.7 hours.
L:R:G:B: = 52: 30: 40: 41: mins.
Location:
Equipment: Ceravolo 300 Astrograph at f/9,
Mount: Astrophysics 900
Camera: Apogee U16M with Astrodon filters
Software used: MaxIm DL, Registar, PS CS2
Image Aquisition: Peter
Image Processing: Debra